Princess Beatrice stunned onlookers through hiking up her floor-length gown into a mini skirt at a glitzy party.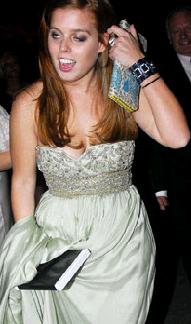 The 19-year-old princess, who was among a host of celebrities attending Swarovski Fashion Rocks London's Albert Hall last Thursday, took the drastic action when she was so fed up with guests treading on the long train of her glamorous dress.
A source revealed, "She pulled the train up and wrapped it around her to make the dress a mini – just as Kate Moss did with a Dior dress she wore at a recent bash."
The princess has been keen to establish herself as a style icon in recent months, and even made her catwalk debut at the grand finale of London Fashion Week in September.
She is also planning on setting up her own clothing line with a friend and has already started sketching some designs for her first collection.
A friend revealed, "It was Beatrice's idea. She has always loved clothes and has an innate sense of style. She has said she is going to start up her own line of clothing and plans to call it Bobcat. She's creating the label with one of her girlfriends. She has lots of ideas for her first collection although she hasn't made a garment yet."
Comments
comments