Britain's Princess Beatrice celebrated starting university by going out drinking with her sister Eugenie on September 24.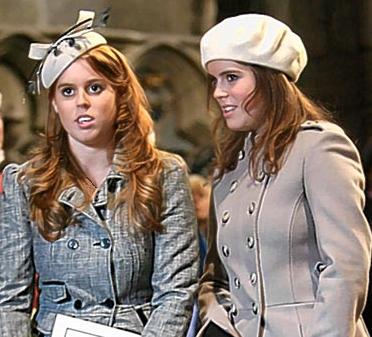 The 20-yer-old princess, who enrolled at London's Goldsmiths University yesterday to study for a BA in History and History of Ideas, looked happy as she hit exclusive London nightspots Bungalow 8 and Kingly Club with her 18-year-old sister.
The night out, which followed a similar evening of events the night before (23.09.08), came after a busy day for Princess Beatrice.
When she registered for her course, the redhead royal wore a flowered dress and £720 Louis Vuitton bag. The princess got a bodyguard separating her from the rest of the students at the establishment.
Princess Beatrice was also seen exploring her new student status by popping into clothing store Primark on London's Oxford Street, where she picked up a £4 dress.
It has also been revealed Beatrice will not be living in student halls of residence, which cost £88-a-week, instead choosing to live at the nearby St James' Palace.
She will stay in an apartment in the royal residence, and will spend weekends at Windsor's Royal Loghe, the house belonging to her father, Prince Andrew.
A source, which is close to the princess, revealed: "Obviously living in St James' Palace will make it more difficult than normal for her to bring back her new student mates for a cup of coffee but Beatrice is a level-headed girl and thought it was the most sensible option."
The source added: "[Princess] Beatrice may be a princess but she is most definitely not a snob. Like any new girl she is quite nervous and having her own security detail isn't going to make it easy for her to blend in. But Goldsmiths has a fantastic degree course and she says she is raring to go."
Comments
comments