John McCain and Barack Obama, who are the U.S. presidential candidates, clashed their point of views on the Iraq war, the US economy and the threat from a nuclear-armed Iran during their hugely anticipated first presidential debate.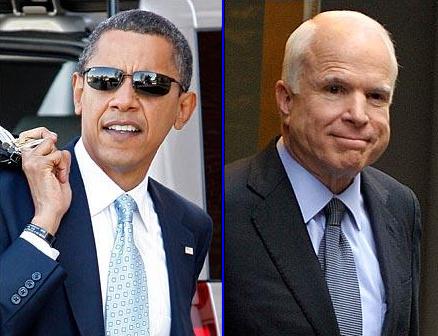 Unfortunately, either candidate did not seriously address the financial crisis, which was gripping Wall Street and Capitol Hill. John McCain labeled his rival as inexperienced and high-risk bet for the White House while Barack Obama called the Republican candidate as out-of-touch extension of President Bush, during a 90-minute exchange of debate.
The result of snap polls after the debate, which men preferred McCain by a significant margin and women overwhelmingly chose Obama, might indicate that McCain appeared firmer and more experienced on issues of foreign policy while Obama seemed crisper and more focused on the economy.
McCain declared that his younger rival "doesn't get it" on foreign policy, saying: "There are some advantages to experience and knowledge and judgment. And I honestly don't believe that Senator Obama has the knowledge or experience [to serve as commander in chief.] I don't need any on the job training."
Obama dodged the foreign policy debate and stressed on how he opposed the support for the "surge" of troops in Iraq, saying: "When the war started you said it was quick and easy, you said we knew where the weapons of mass destruction were. You were wrong."
After revealing that he opposed the war, Obama continued: "You said that we were going to be greeted as liberators. You were wrong. You said that there was no history of violence between Shia and Sunni and you were wrong." He added: "John, you like to pretend the war began in 2007."
McCain accused the Democratic presidential candidate of denying the achievements of the troops in Iraq, declaring: "We are winning in Iraq and we'll come home. And we'll come home as we have when we have won other wars and not in defeat. Senator Obama refuses to acknowledge that we are winning in Iraq."
The debate, held at the University of Mississippi in Oxford, came 48 years to the day since the first televised presidential debate between John F Kennedy and Richard Nixon in 1960. It had for weeks been scheduled as a foreign policy debate, but the first third of the evening was devoted to the financial crisis and the struggle on Capitol Hill to agree on the $700 billion rescue package being demanded by the Bush administration.
Both candidates indicated that they supported a deal on a bailout, with major modifications, but neither seemed to reflect the real urgency of the situation.
McCain accused Obama of compiling "the most liberal voting record in the United States Senate," saying: "It's hard to reach across the aisle from that far to the left."
Obama replied: "Wildly liberal? Mostly that's just me opposing George Bush's wrongheaded policies".
Obama, who refers to the financial turmoil, continued: "John, it's been your president who presided over this spending, this orgy of spending," adding that McCain voted for most of Mr Bush's budgets and had backed 90 per cent of the current president's legislation."
When asked about comments he made last year that he would strike al-Qaeda targets inside Pakistan, if necessary without the permission of the government in Islamabad, Obama explained: "If the United States has Al-Qaeda, [Osama] bin Laden, top-level lieutenants in our sights, and Pakistan is unwilling or unable to act, then we should take them out."
Obama said Henry Kissinger, the former Republican secretary of state and a McCain adviser, shared his view on talks with Iran.
The two presidential candidates are expected to debate twice more, at Belmont University in Nashville on October 7 and at Hofstra University in Hempsted, New York on October 15. The vice presidential candidates, Joe Biden and Sarah Palin, will meet in a single debate on October 2 at Washington University in St Louis.
Comments
comments