Princess Diana, who looked elegant while she was gliding effortlessly across the White House ballroom with John Travolta, told her former nanny: "Watching me dance is like watching an elephant" in a letter to be auctioned next week.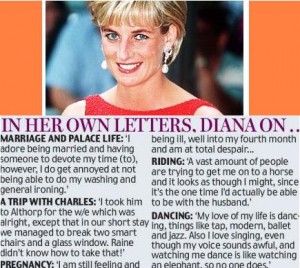 It is one of four letters — never seen before — to Mary Clarke that are expected to fetch more than £10,000.
Princess Diana was just 17 when she wrote the "elephant" letter — years later she captivated the world by dancing with John Travolta and Wayne Sleep.
The letters also indicates Princess Diana's love of my life is dancing, things like tap, modern, ballet and jazz.
In another letter, which was written from Buckingham Palace two weeks before her wedding at St Paul's Cathedral in 1981, Princess Diana wrote: "Not long to go now and about time too! Six months of being engaged is quite something and definitely to be avoided. All the family in complete overdrive!"
Princess Diana expressed her love for Prince Charles, her excitement over their forthcoming wedding and her first pregnancy with Prince William as she wrote in her letter: "I adore being married and having someone to devote my time to."
She also talked about a visit to her family home with Prince Charles, saying: "I took him to Althorp for the w/e which was alright, except that in our short stay we managed to break two smart chairs and a glass window."
In a reference to her frosty relationship with her stepmother Countess Spencer, she adds: "Raine didn't know how to take that!"
Mary was nanny to the Spencer family for two years but Princess Diana always kept in touch. She described the late princess as a "wonderful woman. But you had to bolster her confidence. She could never believe so many people loved her."
The former nanny added: "It will be a wrench to let the letters go but I will always have my memories of Diana. But those memories are tinged with sadness because her dreams were completely shattered."
The letters are among 75 Royal items to be sold by Colchester-based auctioneers Reeman Dansie.
Comments
comments