Princess Eugenie, who recently turned 17 on March 23, got a car as birthday gift from her mother. Her new car is a Nissan Figaro convertible. The retro look of the car has earned it a host of fans among younger drivers.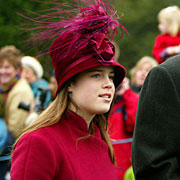 Luckily for the Duchess of York, the price of Nissan (worth £10,000) was slightly more affordable than the 1.6 litre One Series BMW (worth £15,000) her elder sister Princess Beatrice received when she turned 17.
Princess Eugenie will have been delighted to get behind the wheel after her mother presented her with a pale aqua model, wrapped in pink paper.
Comments
comments