Princess Beatrice and her younger sister Princess Eugenie embraced the eighties as they wore retro dress for a fancy dress party.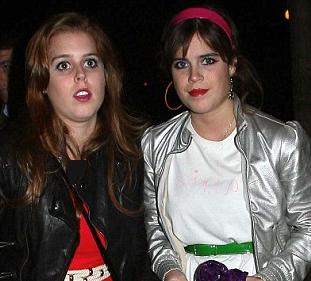 Taking a break from her backpacking to spend Christmas with the family, Princess Eugenie joined her older sister for a girl's night out in London.
The royal sisters dropped their usual dark wardrobe for day-glo, silver and hot pink lipstick as they attended a charity event on Saturday night.
Princess Beatrice, 20, looked suitably attired in a clashing combination of red and pink dress with leather jacket, black leggings, baby pink Converse trainers and hot pink leg-warmers and lipstick.
Younger sister Eugenie, 18, opted for a white t-shirt, denim shorts, a silver jacket and burgundy trainers with day-glo neon laces.
After being reunited following Eugenie's return from India, the sisters would have had plenty of news to catch up on last night.
Comments
comments