Queen Elizabeth II is reportedly unhappy about her grandson Prince William's rekindled relationship with Kate Middleton.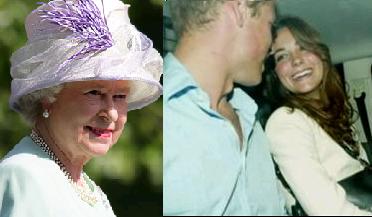 The queen, who is believed to be worried that the young couple's romance that ended in April but was back on last month, is doomed to "end in tears."
A source revealed, "It was William's own decision to split from Kate in the spring and that is why they are uneasy at London's Buckingham Palace that it is back on. The queen takes a long view on such things and she can't understand why having been assured by William that ending the relationship was the right thing to do, three months later they're back together. In short, she thinks it's all going to end in tears – although, of course, she hopes it doesn't."
The queen strongly fears Prince William could end up making the same mistakes as her own children have all gone through divorces.
The 25-year-old prince first consulted with the queen and Prince Philip before ending his relationship with the 25-year-old brunette.
The prince reportedly felt he did not love Kate enough to marry her. Some courtiers fear that his change of heart has been influenced by a wish not to appear like a cad.
Comments
comments