Jennifer Love Hewitt pulled the plug last minute on her wedding to Scottish actor Ross McCall — even after she'd bought a wedding dress, and set a date and location for her Spring 2009 destination wedding.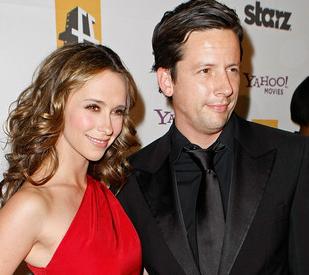 Ross McCall revealed: "We are working it out. We are both still wearing our rings."
The magazine details how the relationship's nearly year-long engagement was filled with constant drama. The 29-year-old Ghost Whisperer star "was so needy and immature," former Ghost Whisperer costume supervisor Claudia Wick designer told Us.
"She would call McCall up and go, 'Can you come and sit with me? I'm cold,'" she said. "She would drag him on the set and then pout and they'd fight. Mainly, it was her needing something from him: 'Can you say you love me?'"
Compounding matters was their career inequality. "It was clear they were not on the same level," said a Hewitt source. "It was hard for him."
Jennifer Love Hewitt, who was famously mocked in 2007 when photos surfaced of her looking particularly curvy in a bikini, also struggled with insecurity issues.
Said Wick, "She would try on clothes over clothes. She would not have lights on or mirrors in the dressing room. It's sad because she had a beautiful body."
A source told Us McCall didn't see the split coming, even though Hewitt has a history of abrupt breakups.
"She has a big heart, but she is more than I can handle," former LFO lead singer Rich Cronin tells Us. "She would say, 'I love you so much we are never going to break up.' When she dumped me, I was like, 'What?'"
Comments
comments