Reese Witherspoon revealed a vivid black eye as she stopped to fill up her car at a petrol station yesterday.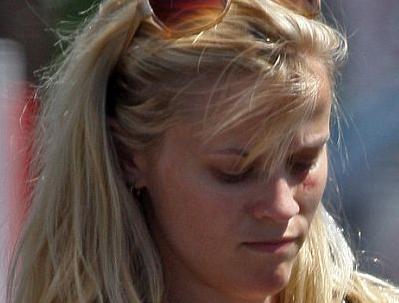 The 33-year-old was sporting the angry red bruise on her left eye socket, which looked distinctly painful.
She wore a pair of over-sized sunglasses to cover the bruise, but removed them as she used the garage pump.
Reese wore a pretty blue floral sundress with rope belt for her trip out.
She has just returned to California from Philadelphia, where she has been filming her unnamed new movie with Jack Nicholson, Paul Rudd and Owen Wilson.
She was spotted with boyfriend Jake Gylllenhaal at an Elton John concert in the city earlier this month, where the singer dedicated his song Tiny Dancer to her.
The Walk The Line actress has been dating actor Jake, 28, for more than two years.
She is divorced from actor Ryan Phillipe, with whom she has two children, Ava, nine, and Deacon, five.
Comments
comments