Reese Witherspoon is renowned for being one of the most modest actresses in Hollywood with her refusal to go [email protected] on screen.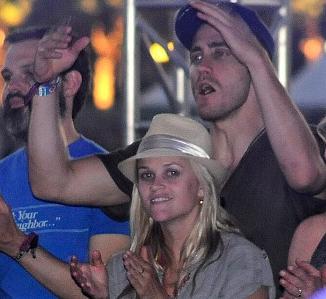 So it was somewhat of a surprise to see the usually covered-up actress stripping down to a bikini at a music festival over the weekend. You could see her wearing a bikini here.
The Oscar winner and boyfriend Jake Gyllenhaal were just two of the dozens of celebrities who attended the three-day Coachella Festival in Indio, California.
During the festival, the couple checked out sets by Paul McCartney, Morrissey and Jenny Lewis, among others.
Blending in to the rest of the audience, Reese dressed down in a denim dress, fedora hat and flip-flops while Jake opted for a hoodie and jeans.
As the weather reached the 30s over the weekend, Reese decided to catch some rays in her white and yellow stripy bikini.
The actress sipped on a Pina Colada cocktail as she chatted to Jake on a sun lounger at their hotel.
The actress is known for her preference of covering up and has vowed to do so in all her movies.
A few hours after her sunbathing session, Reese found herself getting cold after sunset as she cuddled up to Jake as they watched Jenny Lewis's set.
Reese, 33, took time out of training for her new movie to enjoy a fun weekend away with Jake, 28.
Comments
comments