Rihanna partied at a Hollywood nightclub surrounded by one-way mirrors to protect her privacy.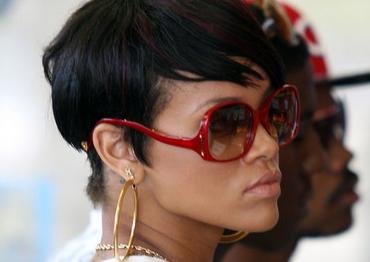 The "Umbrella" singer, who has kept a low-profile since allegedly being attacked by former boyfriend Chris Brown, arrived at the exclusive Halo club with 10 of her friends and the group were immediately whisked off to the VIP area, where they could look down on partygoers below but nobody could see them.
An onlooker said: "Rihanna's group sat in the elevated VIP area, which has one-way mirrors. They can look into the crowd, but the crowd can't see them. This gave the group privacy with a hint of voyeurism."
Rihanna, who wore dark sunglasses all night, and her friends enjoyed a bottle of Grey Goose vodka at their table and spent most of their time dancing during the evening last week.
The onlooker added: "They danced at their table the entire time they were at the club, until it closed at 1.30am. Rihanna looked very happy."
It was recently revealed Rihanna is set to return to the stage for the first time since the alleged attack, with a performance in Dubai next month.
Dubai tourism spokesman Mary Rachelle Cherpak said: "There will be over 25,000 tickets available. They will be going on sale in the next couple of days. It will be the best concert the region has ever seen."
Comments
comments