Reese Witherspoon went on a spending sexy spree in a London shop.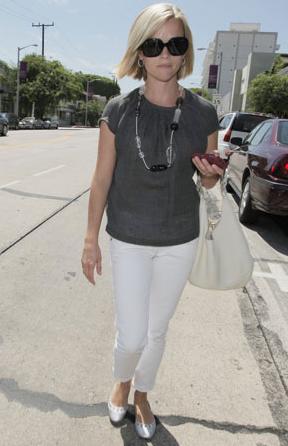 The 32-year-old actress reportedly spent $1000 on sexy lingerie in Myla, which stocks underwear and sex toys, while visiting the UK city with boyfriend Jake Gyllenhaal recently.
The 10-minute shop showed Reese splash out on four garments, much to the delight of the "Brokeback Mountain" actor.
A source revealed: "She bought two Trudie camisoles for $300 each and two pairs of Trudie shorts at $200 each, in two different colors – blush pink and gray. Reese was lovely, chatty and down to earth, while Jake couldn't stop smiling."
Although Reese has now returned to her native US to look after her children – Ava, nine and four-year-old Deacon with former husband Ryan Philippe – she is rumored to be planning to buy a house in the UK with Jake, 27.
An estate agent recently revealed she and Jake have been looking for a house in London's exclusive Mayfair district.
The estate agent revealed: "Reese liked places where the entrance wasn't on the street, she was concerned with security issues. That's not easy to find in central London, but we came up with a few places they both seemed to like."
Comments
comments