Rumor has it, the ex-lovers cheated on each other before their recent breakup, he with an unnamed model and she with hip-hop artist Kanye West.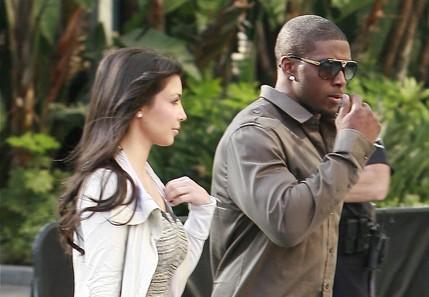 While no word has been officially released by both Reggie Bush and Kim Kardashian on the reason that prompts their split, reports are flying like wild fire that the now-ex-lovers cheated on each other before calling it quits recently. The NFL player is said having an affair with a Latino model, whereas the reality TV star is reported having a fling with music mogul Kanye West.
FOX411 claims to have been informed by a source that Reggie caught Kim exchanging text messages with Kanye. "Reggie saw text messages on Kim's phone from Kanye West and flipped out on her. The texts referenced a night they hung out, how much fun he had, how hot Kim was, and more racy things that got Reggie's imagination running," reveals the source.
And when Reggie confronted Kim about the text messages, the pair then had a huge blow-up. "They realized there were trust issues on both sides, and couldn't go forward," the source tells FOX411.
As for Reggie's affair, Radar Online reports the woman claiming she had a months-long affair with the athlete threatens to sell her story to the highest bidding magazine. She reportedly will tell all about the hookups she had with the hunk in Los Angeles, Las Vegas and Miami, and expose x-rated texts and phone messages. To make matter worse, the model also says she has a video of herself in Reggie's house. Kim, as claimed by Radar Online, was aware of Reggie's affair and furious about it.
Comments
comments