Several [email protected] pictures of R 'n' B songstress Rihanna have been leaked online, some of which show her exposing her [email protected] breasts and bottoms to the camera.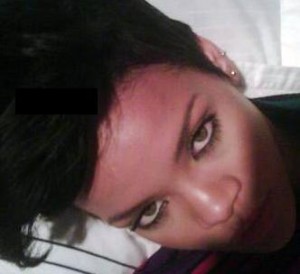 Hot on the heels of the outing of Cassie's semi-clad pictures, several [email protected] shots of fellow R 'n' B singer Rihanna have also been leaked online. At time of writing, there are a total of 8 highly explicit photos of the "Disturbia" singer that have made their way all over the web. All of the photos reportedly are taken in the bathroom and bedroom of a hotel in Hollywood where she has been staying with Chris Brown.
Most of the leaked photos show Rihanna striking various racy poses in a large bathroom. One particular photo features her wearing unbuttoned white shirt combined with black panties. It appears that she is taking the photograph herself in a mirror, which has the messages "I Love You" and "I Miss You" written on it.
The three other pictures, meanwhile, show her exposing her [email protected] bottoms to the camera in various poses. Moreover, there is one shot that sees the Barbadian songstress exposing her [email protected] breasts and covering her private part with her left hand. Chris is also featured in one photo with pink panties on his head.
There hasn't been record on the exact date when the provocative and semi-nude shots were taken. It is also not known where they are from or how they end up online. All of the reported photos, in the meantime, are available for peek at PopCrunch site.
No comment just yet from Rihanna herself about the outing of her [email protected] pictures. Her people also have not yet offered a single comment to the press.
Comments
comments