Rihanna made a customary standout style statement at Z100's Annual Jingle Ball Concert at Madison Square Garden in New York City on Friday night, December 12.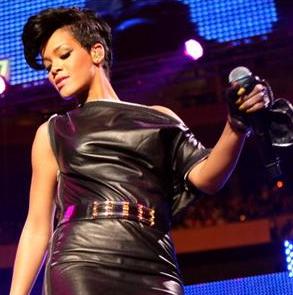 "The Umbrella" hitmaker performed at the event along with boyfriend Chris Brown, Kanye West, Katy Perry, Ne-Yo, GaGa, David Archuleta and others.
Rihanna, who is one of the boldest celebrities when it comes to fashion, has lived up to her style icon image through the year, carrying off styles which many others would just dream of owning.
On Friday, the singer carried off her figure hugging mini black leather off shoulder dress with aplomb. The dress was accented with a crystal belt at the low waist and zipped on the sides as well as on the shoulders – keeping many on the edge for a malfunction! Her matching zipped gloves served as an extension to the dress. She left the front of the gloves open exposing her yellow patterned nails.
She accessorized with black booties, stud earrings, a chunky studded bracelet on her right hand and a black bracelet on her left hand.
The pop-soul diva is allowing her much copied cropped cut hair to grow, making us wonder how she is going to style them next.
Rihanna, 20, and Brown, 19, will both perform next on Monday, December 15, for KDWB's annual Jingle Ball at Xcel Energy Center, St Paul, MN.
Rihanna won awards for Favorite Female Singer in soul/R&B and pop/rock categories at 2008 American Music Awards, Sunday, November 23.
They recently returned from a tour of Australia and New Zealand, where Brown shared the stage every night with Rihanna to sing her mega hit, Umbrella.
Comments
comments