New details in the allegations of assault against Chris Brown. According to multiple reports, his girlfriend Rihanna was physically beaten up by Brown in the early hours of Sunday morning in Los Angeles, with sources revealed that her injuries are "horrific."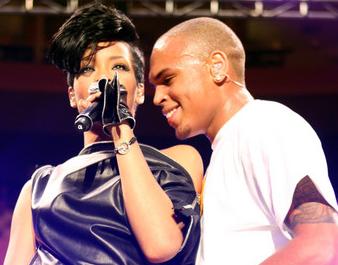 According to a report, the photos show major contusions on both sides of the singer's face — there is serious swelling and bruising. Her lip is split and her nose bloody. We have now confirmed there are bite marks on one of her arms and on several fingers.
And we now know this… Rihanna claims Brown struck her with his fists and that's what did the damage. There was no object used in the alleged attack…
And we've learned it was not Rihanna who called 911. Someone in the area heard her screams and called.
Earlier they also reported:
Law enforcement sources revealed Rihanna's injuries were severe — two "huge contusions" which swelled up on both sides of her forehead. We're told she also suffered "a bloody lip and nose."
One of the law enforcement people put it this way — the contusions "look like an MMA fighter or something … [It] looked like she was growing devil's horns."
Sources also told E! her injuries were bad, including bite marks, but hear differently on who called 911:
According to a source close to the investigation, Rihanna made the 911 call to police after Brown "fled on foot" from the scene following the attack. Two officers from the LAPD Wilshire Division found Rihanna in Brown's rented silver Lamborghini "beaten really badly and hysterical."
Brown had taken the keys to the car with him and Rihanna was basically left on the side of the road with the car.
The source revealed: "Rihanna didn't want anyone to touch her, she was in so much pain."
Rihanna, whose full name is Robyn Rihanna Fenty, had visible bruising and scrapes on her face and what appeared to be bite marks on her body. Officers took her to the emergency room at Cedars-Sinai Medical Center for treatment.
A car belonging to 20-year-old Rihanna was later seen in the car park of the Cedars-Sinai hospital, where she reportedly sought treatment. An eyewitness revealed that Rihanna arrived at the medical facility flanked by two LAPD officers.
An onlooker claimed: "Rihanna was clearly very upset by what had happened and I could hear her screaming. Rihanna was trying to get her point across about something, she sounded like she was crying as she tried to get her point across."
Brown has pulled out of a scheduled appearance this weekend and Wrigley has suspended an ad campaign featuring the performer.
Comments
comments