Umbrella singer Rihanna partied til the wee hours at Movida nightclub last night – and then hotfooted it to a sports bar where she watched her beloved basketball team until 5am.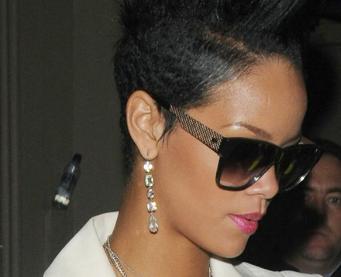 The sporty star couldn't resist checking up on the Los Angeles Lakers, who are heading back to the NBA finals for the second year running.
Rihanna had enjoyed a bite to eat at Mr Chows earlier in the evening before hitting London's Movida nightclub with her huge entourage.
The 21-year-old sported a white waistcoat over a grey top and a machine gun necklace pendant.
Rihanna has been ordered to appear in court next month to testify over allegations that her ex-boyfriend Chris Brown beat her up.
R'n'B singer Brown is accused of battering her before a pre-Grammy party in February.
Barbados-born Rihanna has so far refused to talk about the attack.
Her lawyer has confirmed she will attend court. Donald Etra said: 'She will comply. She hoped she wouldn't have to go.'
Brown last appeared in court in April, where he pleaded not guilty to charges of felony assault and making criminal threats.
Earlier this week he broke his silence to tell fans he is 'not a monster' in a video message posted online marking the first time he has publicly addressed the incident beyond an initial statement in February.
Rihanna recently appeared in a video for rapper Kanye West's track Paranoid, which saw her writhing on a bed in a sheer basque.