Angelina Jolie, who fueled more pregnancy rumors with long, billowing Hermes gown, was reportedly pregnant, as the actress landed cover of the two entertainment magazines with their pregnancy cover stories.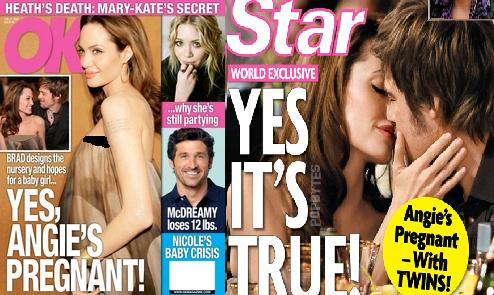 It was reported that the "Good Shepherd" actress is indeed expecting second biological baby with Brad Pitt and that the actress is over the moon about bringing another child into the world.
A friend of the actress said, "Angie has wanted a second biological baby for some time now. And the minute she's pregnant, she just glows. She's the type that doesn't want to scream it to everyone, but she has the quiet, expectant mother glow. Her smile says she's the luckiest woman in the world."
The pal also revealed that even though all is well now, it did take some persistence for Angelina to conceive. It was also reported earlier that the star was trying to work her upcoming press tour for her new film "Wanted" around a possible pregnancy.
The actress also sought the help of a nutritionist, a source said, "When Angelina decided to get pregnant, the nutritionist told her that she needed to start eating more calories a day. She was averaging 1,000 to 1,100 calories a day, and the nutritionist wanted her to bump it up to between 1,600 and 1,800 a day."
One SAG attendee said, "It was so obvious she was pregnant. You could clearly see the bump's outline."
Another source revealed that the 32-year-old actress might sell the confirmation of her pregnancy, with the money going to charity.
Her estranged father, Jon Voight, recently said, "It's wonderful news … if that's true."
A representative for Angelina Jolie did not immediately respond to a request for comment.
Comments
comments