Becoming estranged from Chris Brown since he assaulted her in February, Rihanna is said to have been spotted sharing kisses with her new man, Aubrey Drake Graham.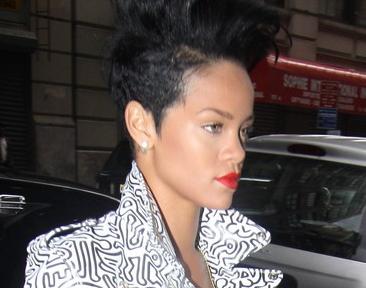 Already setting the record straight that she isn't dating basketball player Andrew Bynum as earlier rumors claimed, Rihanna apparently is romancing actor-rapper Aubrey Drake Graham as she reportedly was seen kissing him during a night outing on Monday, May 18. New York Post's Page Six is the first to run news of that matter, claiming the alleged lovers were engaged in public display of affection at Lucky Strike Lanes & Lounge on West 42nd Street.
Rihanna and Andrew weren't all alone during the night, they were joined by 10 friends. And while their companions enjoyed some bowling and drinks, the Barbadian songstress and Andrew stayed close to each other. A source said Rihanna sipped whiskey and apple juice, adding that she looked "absolutely glowing."
"The two of them were stealing kisses here and there the whole night," claimed the source. "They were very cute. Both of them were in really good spirits [and] she was having a great time."
No picture has been provided by Page Six as evidence though. In the meantime, representatives for both Rihanna and Andrew also cannot be reached for comment just yet.
Comments
comments