Once again spending her time making music, Rihanna was spotted paying a visit to a recording studio in the Chelsea district of New York City on Monday (May 18).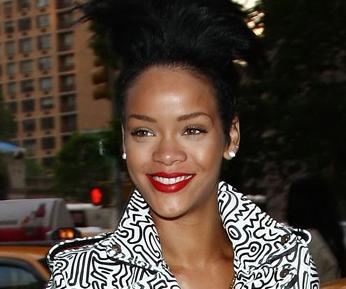 Sporting her mohawk hairdo and a stylish "Perfecto" leather jacket by Jeremy Scott , the "Take A Bow" songstress put in a little work before calling it quits for the day.
Accompanied by a few friends, the Barbadian beauty hopped into a taxicab, offering up a seldom-seen smile since the Chris Brown incident as she hopped out of the backseat.
As for her recording session, Rihanna is looking to make a splash with what will be her fourth album, as spent the previous evening meeting with Justin Timberlake and Jay-Z – who make quite the tandem when it comes to cranking out the hits.