Rihanna has rarely been seen appearing in public since she was allegedly attacked by Chris Brown. However, the "Umbrella" hitmaker is spotted out and about in New York City on Friday afternoon, March 13.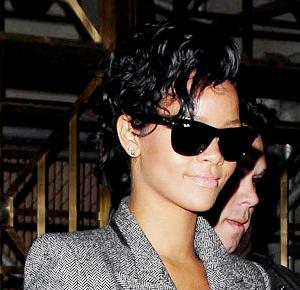 Sporting sunglasses to cover up her face, Rihanna is accompanied by her bodyguard while making her way around the Big Apple. The 21-year-old beauty flashes her smile when photographers snap her during her day out.
Putting the trauma of Chris Brown's assault behind her, stylishly attired Rihanna stepped out for another night of partying without Brown.
She is pictured here arriving at a friend's apartment for a girls' night out.
Later she met with Beyonce, Jay Z and Brandy to belatedly celebrate her 21st birthday.
Also in attendance at 'The Spotted Pig' restaurant in the West Village, Manhattan, was chef and restaurateur Mario Batali.
On an aside, Revlon is reported to have secretly commissioned an online survey to assess if Rihanna's reconciliation with Brown has sullied her image to an extent where it is hurting rival cosmetic line Covergirl which is promoted by Rihanna.