Rihanna made the unusual decision to have a handgun tattooed on her body this week.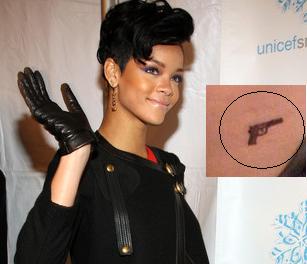 The singer, who has often been seen wearing a miniature gun pendant necklace, had the weapon etched across her ribcage.
She visited Los Angeles based tattoo artist BangBang, who initially drew two guns on either side of the tops of her arms.
But the singer decided against having the weapons inked on in such a prominent position because of her contract with make-up brand Cover Girl.
BangBang wrote on his website: "I really wanted to put it here [on her arms]… She loved 'em. But, Cover Girl wouldn't have liked it much… and they pay the bills! Ended up doing it on her ribs."
Why did Rihanna get a gun tattoo? Her tattoo artist BangBang revealed of the ink, which he gave her last Thursday at her Hollywood mansion: "We've been talking about the idea for a year. She had a necklace with a gun, and I love it. I was like, 'How about the gun?'"
He continued: "I printed it out, put it on her shoulders." Although photos show the singer with a gun drawing on both shoulders, he only inked her right ribcage because "it took a little bit away from her face. She's so beautiful. That's not what we're going for!"
Why would she stick with such a violent design? BangBang explained: "It's powerful. It's protection. At least that's my interpretation of it."
Rihanna already has many other tattoos, including a collection of stars plunging down her back, a music note on her ankle and a Pisces sign behind her right ear.
She also has a star inside her left ear, a Sanskrit prayer going down the hip, the word Shhh… down her index finger, and a tribal patter on her right hand.
Comments
comments