She may be finally taking the advice of family and friends to keep her distance from former boyfriend Chris Brown, but that doesn't mean Rihanna can't spend time with men who could pass for his double.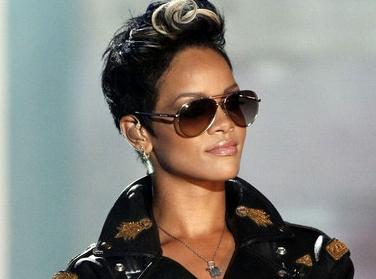 The "Umbrella" singer was pictured frolicking at the exclusive Sandy Lane beach in Barbados with a mystery man who bared more than a passing resemblance to Chris, which you could see here.
Wearing a tiny black bikini and shades, Rihanna looked young, free and single as she chatted and laughed with her tattooed friend.
This was in stark contrast to a couple of months ago when the 21-year-old cut a lonely figure on holiday in Mexico.
Lately Rihanna, who had been joined in her native Barbados by her singer friend Katy Perry, seems to have turned a corner after her recent troubles.
This is said to be due to her finally getting over Chris, 20, and finally moving on.
The star, who was left battered and bruise after an alleged bust-up with Chris in February, has reportedly even been toasting to her single status at every opportunity.
She celebrated last month with a night out at Giorgio's restaurant in Los Angeles in the company of close friends and record company bosses.
'People close to Rihanna have drilled it into her head that if she stays with Chris her career will be over,' said a source. 'At the dinner party there were about 10 toasts made, including one to the fact she's about to land the cover of a major fashion magazine… Rihanna also raised a glass to her break up.'
This will all come as a blow to Chris, due back in court on April 29 to face charges of felony assault and making criminal threats.
He is believed to still want a relationship with the singer and has pleaded with her to stand by his side. But it seems Rihanna is more concerned about the jewellery she lost on the night of the infamous incident than she is with him.
The pop star filed a motion last Tuesday asking the Los Angeles Police Department to return the jewellery they confiscated as evidence in the case. The earrings and three rings are valued at U.S.$1.4 million (£1m).
Rihanna wore the jewellery to Sony Music boss Clive Davis's pre-Grammy party on February 7, just before the alleged beating occurred.
According to the papers filed in the case, the pieces were loaned to the singer by four companies that have since asked for them back.
In the meantime, Rihanna is clearly attempting to leave all her woes, legal and otherwise, to one side as she continues on her indefinite Caribbean holiday.
Comments
comments