Just as family and friends breathed a sigh of relief over Rihanna taking a break from Chris Brown, the Umbrella singer's sparked new fears by hitting the town and indulging in 'reckless' behavior.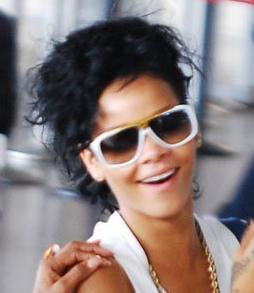 Rihanna, who's been estranged from Chris, 19, for the past few weeks after his alleged attack on her, is said to have not only turned to booze and clubbing to drown her sorrows, but is also determined to show the world she's not a victim by pulling stunts such as her recent ill-advised gun tattoo.
A source revealed: "Rihanna's really mixed up. Because she feels so distressed and helpless about the situation with Chris, she's trying to take back some control by getting wasted and behaving recklessly. Partying stops her being left alone with her thoughts and depression."
On a recent night out clubbers in the VIP room of West Hollywood's Les Deux Café looked on as the singer indulged in a full-on drinking session.
An eyewitness said: "Every time a waitress passed with shots, Rihanna would help herself to one. She was drinking them like they were water. She wants everyone to think that she's over what happened and is getting on with her life, but inside she's tormented. She often can't sleep and when she does, she has nightmares."
But family and friends are hoping that Rihanna, who's finally co-operating with LA police in the case against Chris, is just having a natural short-term reaction to what happened and will soon get over this 'bad phase'.
Meanwhile, Rihanna has secured a major deal to launch signature scents. She and fellow music stars, Kanye West and Jay-Z, have all inked fragrance deal with Jay-Z's licensing company Iconic Fragrances, which has produced Paris Hilton and Jessica Simpson's scents among others. The threesome reportedly will be joined by a yet-to-be-announced "well-established female artist".
Rihanna and Kanye, as reported earlier, will launch their signature scents in the summer of 2010. Jay-Z, meanwhile, will work together with the not-yet-identified star to launch their fragrance some time the following year. What make the stars' partnership extraordinary is that instead of receiving cash, they will receive payment in royalties, profit sharing and Parlux stocks.
"We are excited for the opportunity to partner with Parlux and their management team in the launch of these dynamic new brands," Jay-Z says in a statement when making comment on the partnership. Parlux's CEO Neil Katz chimes in, "We are extremely excited to begin work on our projects with Rihanna and Kanye West. Each is an extremely highly regarded celebrity at the top of his or her profession who is undoubtedly going to make an indelible impression in the fragrance industry, just as each has done in the entertainment world."
Comments
comments