Rihanna covers up her fun cheetah top with a white pantsuit as she leaves her hotel in New York City on Wednesday night (May 6).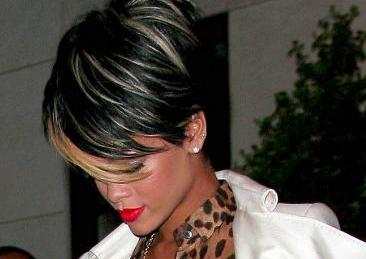 The 21-year-old pop singer will not perform at a concert in Dubai scheduled for May 28, the same date that a court hearing is scheduled in Los Angeles for Chris Brown.
Yassin Matbouly, the managing director of an entertainment agency in the United Arab Emirates, told the AP that he had been told by Rihanna's management that "it was inappropriate timing for her to have a public concert."
Meanwhile, Rihanna has performed for the first time since the alleged assault as she joined Kanye West on stage at the Metropolitan Museum of Art Costume Institute Gala in New York on Monday (04.05.09).
The pair performed a duet of Kanye's song 'Say You Will' before Rihanna belted out an emotional rendition of her hit 'Live Your Life'.
A source said: "Kanye asked her to do it. It was his idea, but Vogue editor Anna Wintour obviously had to approve it. Anna was at the run-through during the day and was so into it."
The audience applauded wildly when the 21-year-old star walked on stage, with many shouting messages of support.
Rihanna did not respond to questions about Chris, but smiled and waved at the crowd.
After her performance, the star was seen chatting to Madonna, Victoria Beckham, and fashion designers Marc Jacobs and Stella McCartney.
She was later seen talking to 'Gossip Girl' star Blake Lively at Jacob's after-party at trendy restaurant Monkey Bar and spotted dancing with friends at nightclub Bungalow 8.
Chris, 20, pleaded not guilty to assault and making criminal threats in a Los Angeles court last month.
Comments
comments