Rihanna, who wears a low-cut dress, have won Favorite Female R&B Artist last night at the American Music Awards.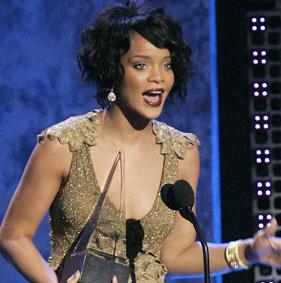 The "Umbrella" hitmaker, who has impeccable style, also wears another outfit, which is Zac Posen Spring 2008 gold gown. But her low-cut dress reveals Rihanna's daring style, which you could see here.
As for other news, Rihanna is holding off competition from Britney Spears at the top of the European singles chart for a third week. Her song "Don't Stop The Music" remains the continent's number one song.
Comments
comments