It appears Rihanna is throwing herself back into her social life with aplomb as she enjoyed another night out partying in Hollywood last night.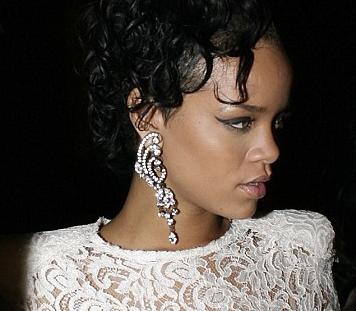 Clearly enjoying the fact she can now go clubbing legally in the U.S. after turning 21 in February, Rihanna joined friends at LA hotspot Bar Delux.
The Bajan singer caused a frenzy on Thursday when she arrived at the venue in a sexy see-through lace top and stripy black skirt.
She was accompanied by her bodyguard and her blonde female personal assistant.
Paparazzi clambered for a shot of the Umbrella singer, who just managed to protect her modesty with a skin-coloured bra.
The young star kept her new tattoo covered up, which emerged on the internet earlier this week.
Meanwhile, Rihanna, hanging with friends (her hair stylist, two gals and a couple of bodyguards) and dancing on a chair at Delux in Hollywood before taking off at about 2 a.m. this morning. So is the tabloid report true that she gave a lap dance to Bromance player Frankie Delgado? "No," Delgado insisted: "We are, however, good friends, and God bless any guy who does get to dance with her.
She was rumored to be over Chris Brown, it's being reported she gave Brody Jenner's bestie Frankie Delgado a "lap-type dance."
Comments
comments