One female fan manages to steal a hug from Robert Pattinson when he is enjoying a break from filming his movie "Remember Me" in New York City.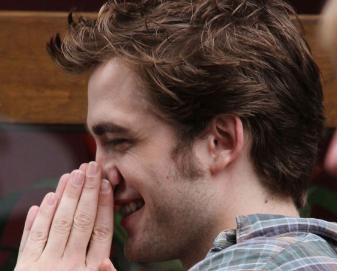 Robert Pattinson was enjoying a break from shooting his upcoming film "Remember Me" in Manhattan, New York City on Monday, June 15, when a throng of female fans suddenly ambushed him. The fans apparently learned his whereabouts from Twitter and fansites.
The Edward Cullen depicter in "Twilight" and its upcoming sequel "The Twilight Saga's New Moon" was spotted sporting jeans, gray t-shirt, and plaid shirt. He finished off his look wearing his signature Ray-Ban Wayfarers. There were some bodyguards surrounding him, but that didn't prevent his screaming fans from attempting to get close to him.
A fan managed to steal a hug, wrapping her arms around Robert's neck as he smiled for onlookers. Some other fans, meanwhile, kept taking photos of the British hottie as he was led by his bodyguards to a secure place.
A source who witnessed the incident was quoted as describing, "You could tell it was all starting to get to him, especially the hecklers. He's been as friendly as possible to everyone, he even nicely brushed off a swarm of girls trying to get a picture with him, but after all the commotion, he needed to take a break for some personal time."
Comments
comments