The leaked voicemail message — in which a foul-mouthed Alec Baldwin called his then-11-year-old daughter a "rude little pig" and said she needed to have her "a** straightened out" — was shocking to everyone who heard it. But it left the actor himself contemplating suicide.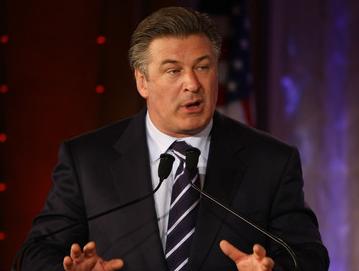 The 30 Rock star says that his April 2007 tirade against his daughter, Ireland, was brought on by a six-year bitter custody battle with his ex-wife Kim Basinger, and was never meant to be shared with the public. So when the message surfaced on the Internet, he was distraught — and suicidal.
"[I was] very serious," the actor tells Playboy in their July/August issue. "I spoke to a lot of professionals, who helped me." However, he says he thought better of it, saying: "If I committed suicide, they [Kim's side] would have considered that a victory. Destroying me was their avowed goal."
While the actor made amends with his daughter immediately — and she happily accompanied him to the SAG Awards earlier this year — Alec appeared on The View to try to publicly clear his name.
"Whoopi Goldberg is a friend," he tells the mag. "I called her and said, 'Do you think I can get a fair shake?' Because when you talk about family law and parental alienation, there is this unfortunate gender-based dynamic. Could I walk into a show with a strong female audience? Would they understand my point of view? I trusted Whoopi and Barbara Walters. Whoopi is an impeccably decent person, and I am grateful she gave me a forum."
Not one to dwell too heavily on the past, the actor also discusses his plans to retire from showbiz after 30 Rock's sixth season ("I'm done in 2012") and, perhaps, start a new family.
"I have this silly fantasy," says Alec, who has won SAGs, Golden Globes and an Emmy for his role in the NBC show. "I get married again, I have a kid. I'd love another shot at that, with everything I've learned. My kid's like eight, comes home and says, 'Dad, Jimmy's mom says you were a famous actor on TV and in the movies. Is that true?' And I go, ' Yes, Johnny, Dad was famous.' I whip out my scrapbooks and my DVDs and say, 'Believe it or not, that's your dad.' And my kid's like, 'You used to be on TV and everything? And now you stay home and just clean the house all day while Mom works?' 'That's right, son.' It's a dream, that the kid doesn't know anything about that part of my life. Our normal life is uncontaminated by it."
Comments
comments