Robert Pattinson's level of fame is the same as US president Barack Obama, the actor's Twilight co-star Mike Welch has claimed.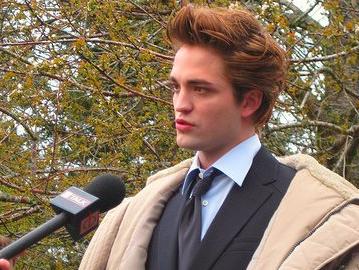 Welch, who plays Mike Newton in the vampire saga, said Pattinson was unable to remain static in public for more than five seconds without being mobbed.
"If he's in a room and he looks down and he looks back up, [in that instant] everyone in the room will be staring at him," Newton told MTV.
"It's kind of ridiculous. [That level of fame] is literally Rob Pattinson and Barack Obama."
Pattinson has become a worldwide sensation as Edward Cullen in the films, which are adapted from four novels by writer Stephanie Meyer.
Christian Serratos, who plays Angela, said the love people felt for the actor was "understandable".
"But despite all that, he's still completely relaxed and completely laid-back," she added. "I don't know how it's possible, but he's really just chill."
The second instalment of The Twilight Saga, New Moon, is due to be released in November.
The film continues to track the relationship between Edward and Bella Swan, played by Kristen Stewart, which is made more complex by werewolf Jacob Black.
Comments
comments