A "bloodied" Robert Pattinson arrives on set for another day shooting his new movie, Remember Me, in downtown New York City on Wednesday (July 1).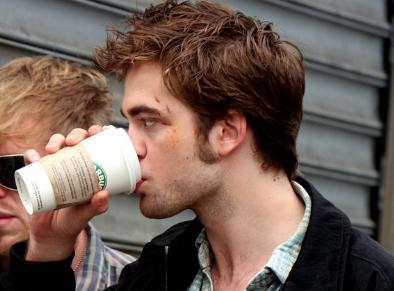 The 23-year-old British actor sported a series of "cuts and bruises" around his eyes. Co-star Emilie De Ravin was also spotted on set.
On Monday night, Rob was spotted at Webster Hall with a pack of guys to check out a band called Jump Into the Gospel.
Meanwhile, with "The Twilight Saga's New Moon" falling into its post-production, little details about the upcoming sequel of "Twilight" start to unravel, and apparently actor Michael Welch has more to be shared. After bringing up into the open that the three-way date between Jacob and Bella and Mike will be seen in "New Moon", the 21-year-old reveals how the filmmakers bring Edward back despite the fact that he is largely absent in the novel.
"They figured out a very clever way to get Edward back in the film much more than he is in the book," he unveiled director Chris Weitz and screenwriter Melissa Rosenberg's plan to include the fleeing vampire in the movie. "It's more of, like, a hallucination kind of thing." Elaborating more, he said, "In the book, she just hears his voice. In the film, it's more of like a hallucination kind of thing. He will be [in the movie more than the book] for sure."
Another scoop exposed by the actor who plays Mike Newton in the series was the insertion of a mini movie inside "New Moon" by Weitz in the scene that has Bella, Mike and Jacob watching a horror film at a movie theater. "The film is called 'Face Punch'," he shared before adding that it won't be a horror movie, but rather "an action film".
Recalling on how they came up with the title, Welch said, "We started out with a few other comical names, but it turned out those were actual films so we couldn't use those titles. I forget the first few titles, but it was like 'Crazy Explosion' – and it turns out, there actually was a 'Crazy Explosion'." He also expressed hopes Weitz will shoot it for real, saying "That'd be interesting – maybe for the DVD, if there's a Face Punch trailer. That's not actually a bad idea."
A sequel to highly-popular movie "Twilight", "The Twilight Saga's New Moon" is based on the second book by Stephenie Meyer and will hit the U.S. theaters on November 20. This time, Edward will leave Bella abruptly, leaving her unguarded from outside threat. While devastated, Bella is comforted by her growing friendship with Jacob Black. Robert Pattinson, Kristen Stewart and Taylor Lautner reprise their roles as Edward, Bella and Jacob.
Comments
comments