The "Twilight" leading actor has become the subject of major media headlines after he is reported being hit by a taxi while shooting his next movie "Remember Me" in N.Y.C.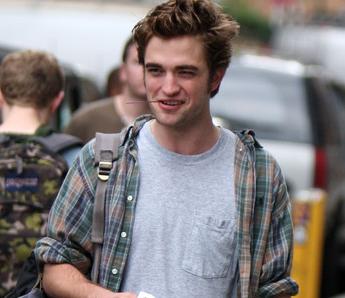 Robert Pattinson was involved in a minor accident while filming his next movie "Remember Me" in Manhattan, New York City on Thursday, June 18. Per Radar Online, which is the first to report the story, the British hunk was escaping a throng of hysterical female fans when he suddenly was hit by a taxi. He, nevertheless, was said escaping any injury.
Chronicling the incident, a report revealed that Robert was making his way out of the Strand Bookstore on Broadway and 12th Street after filming a scene inside the building when a group of fans began to hound him. There were 5 security guards trying to rush him to his trailer, but the attempt failed.
It was raining at that time and Robert tried to escape the frenzy by running across the busy street. Suddenly, a moving taxi "grazed" him. The taxi's driver was quick to slam on the brakes. "It appeared as if the cab hit Rob in the hip. He stood there for a moment looking stunned. The bodyguard next to him checked if he was okay and then screamed at the fans: 'You see what you did, you almost killed him!' " according to a report.
Meanwhile, a representative for Summit Entertainment, the studio producing Robert Pattinson's upcoming film "Remember Me," has confirmed that the actor is okay amidst mounting reports of him being hit by a taxi while filming the flick in New York City. "Rob Pattinson is fine," the representative says in a statement.
Not releasing further details concerning the much-talked incident, the representative claims reports on the matter "are exaggerated." And the representative goes on confirming "it was not caused by fans."
UPDATE: After his little cab incident earlier, it was confirmed that Robert Pattinson is back at work, unharmed. He was spotted happily drinking a soda, unscathed, before heading on to the set to shoot a scene.