Featured on the cover of GQ magazine's April 2009 issue, Robert Pattinson opened up that he isn't dating rumored girlfriends Camilla Belle and Kristen Stewart.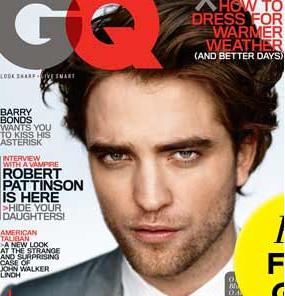 Rumor of Robert Pattinson gracing the cover of GQ magazine's April 2009 issue is proven true as picture of him on the publication's very front part has made its way all over the web. And while the highly sought-after issue will not hit the newsstands in N.Y. and L.A. until next Tuesday, March 17, excerpts from his interview with GQ's Alex Pappademas have been exposed for everyone to read.
Setting the record straight on several on-going rumors surrounding his personal life, the "Twilight" hunk claims, "There's literally not a single [true] story that could be written about me." He continues, "I never do anything. There's this thing about my supposed girlfriend. There's this one girl who's consistently mentioned. It's like, 'He's dating this Brazilian model.' What's her name–Annelyse. I've never met her."
On him being romantically linked to Camilla Belle, who is dating Joe Jonas, Robert says he finds rumors of him dating the actress as "funny." "No. I mean, yeah, yeah, I'm friends with Camilla … It's funny, though, because I met her at her place the other day, and there's a security gate, and even the security woman-I guess she knows that Camilla lives there, and she was like, 'Oooh!'" he explains. "I mean, Camilla's the nicest-she's a saint. And it's funny that she's being portrayed as this home wrecker. She's literally the most unlikely person to be a home wrecker. It's just ridiculous."
Also addressing on the long persistent rumors of him proposing to "Twilight" co-star Kristen Stewart, Robert tells GQ, "I said that in some interview as a joke – 'Oh, I proposed to her multiple times'. And then it gets printed: 'On the set, he proposed multiple times'". Robert furthermore admits that for the time being he doesn't date anyone. He says, "I don't see people. I don't even have people's phone numbers. I almost don't want to have a girlfriend in this environment".
Comments
comments