Contrary to their repeated denial that they are not embarking on a love relationship off-screen, they have allegedly been photographed kissing.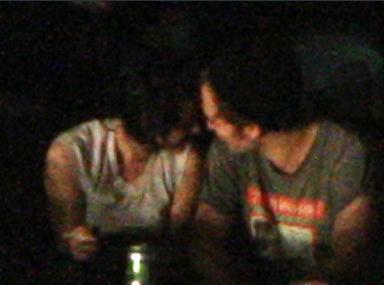 Robert Pattinson and Kristen Stewart, apparently, won't stop generating media attention as several new photos have appeared, showing them allegedly swapping spit. The photos were taken on Saturday, August 15 while the "Twilight" co-stars were attending Kings of Leon's concert held at the General Motors Place in Vancouver, Canada.
Inside the venue, the on-screen lovers sat side by side. Their "The Twilight Saga's Eclipse" co-stars Kellan Lutz and Bryce Dallas Howard were seen sitting on the row behind them. Seen cuddling and leaning their bodies close to each other's, Robert and Kristen were then allegedly photographed kissing.
Celebrity Mania has the photos of the twosome's togetherness during the music concert.
Robert Pattinson, Kristen Stewart, Kellan Lutz and Bryce Dallas Howard were in Vancouver, Canada to start the production of the highly anticipated "The Twilight Saga's Eclipse", which is targeted for for June 30, 2010 U.S. release. The foursome was joined by Taylor Lautner and Ashley Greene on Friday, August 14 for a viewing party for "The Twilight Saga's New Moon".
Comments
comments