She's looking thinner than ever, but there's one part of Victoria Beckham that looks set to put on a lot of weight very quickly – her wallet.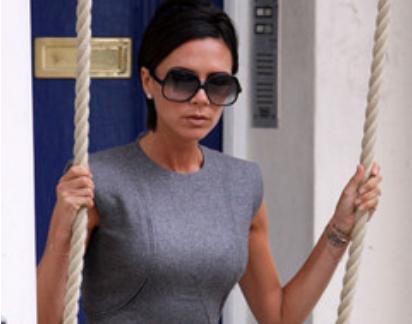 Posh Spice has landed a £3million contract on American Idol, replacing Paula Abdul, but bosses of the hit show are still worried about her image.
The 35-year-old has been given the stamp of approval by judge Simon Cowell and the maker of the show, Simon Fuller.
But channel executives at Fox are concerned her skinny frame and British accent may put off U.S. viewers.
Victoria was only due to sit in as a guest judge for one episode of the talent search show.
After her experience, she admitted she was incredibly nervous and said 'I know how it feels to stand there and be judged.'
But she has since attended two rounds of auditions in Boston – making her position on the judging panel more likely.
Although fears over her tiny figure and distinctive British twang could scupper her chances of becoming a permanent fixture on the show.
'American Idol is the highest rated show and they don't want to pick a judge viewers don't take to.
'Focus groups are going to be set up to judge Victoria's performance,' a source told the News of the World.
'There's some concern about whether viewers will think she's too skinny.
'They're also worried about her accent. She's started to talk in a very posh voice and some people might struggle with that.'
Posh is not the only guest judge to appear on the show since Paula Abdul quit over a pay dispute last month.
I Kissed A Girl singer Katy Perry and soul legend Mary J Blige have also been lined up to take part on the panel.
But Victoria is the only one so far who has been asked to attend two rounds of auditions since her one-off appearance.
'Victoria is the clear favourite because of Simon Fuller's influence… She was a revelation at the second audition and is now top of the list to permanently replace Paula,' added the source.
Fuller is the former Spice Girl's manager and creator of the incredibly popular show.
However, Posh has made it clear that she's not about to sign up permanently to be a judge.
'The producers and judges loved her and she loved being part of the show.
'But she's got a lot on and her priority is fashion and her family, not getting a full-time job,' a source close to Victoria and David Beckham told the paper.
With possibly all the concern over her American Idol appearances preying on her mind, Victoria looked deep in thought as she watched her husband David play for LA Galaxy yesterday.
Leaving the east coast for the west, Victoria was joined by close friends Gordon and Tana Ramsay as David competed against Seattle Sounders at The Home Depot Centre in California.
However both Victoria and Tana looked more like desperately bored LA wives than successful women in their own right, married to world-famous men.
Comments
comments