With filming of "The Twilight Saga's New Moon" has been kicked off, the movie's main cast Robert Pattinson and Kristen Stewart have been photographed sharing a laugh on high school parking lot scenes in Vancouver, Canada on Thursday, April 9.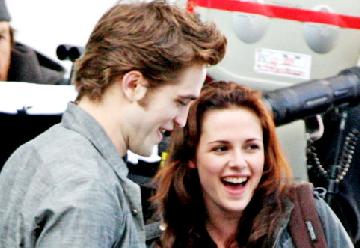 Taking into account the smiles on their faces, the on-screen lovers seemed enjoying their time together very much.
Also seen joining Robert and Kristen on set was co-star Taylor Lautner. The 17-year-old actor, who is billed to reprise his role as Jacob Black, was caught on camera wearing a blue jacket on top of his black t-shirt. He, moreover, also donned long wig.
In addition to Robert, Kristen, and Taylor, Justin Chon, Michael Welch and Christian Serratos were also spotted on set.
"The Twilight Saga's New Moon", which is the highly anticipated sequel of hit vampire movie "Twilight", is slated for November 20 U.S. release date. Filming of the movie has been begun since last month.
Comments
comments