Twilight star Robert Pattinson goes incognito in an all-black ensemble and shades while leaving a house in Beverly Hills.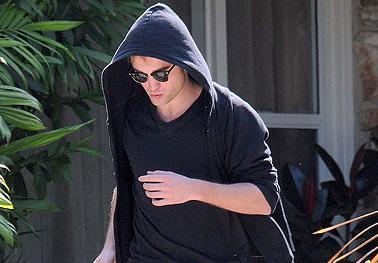 According to a report, the actor met with director Peter Berg, who is set to direct a big screen adaptation of the sci-fi thriller "Dune," sparking rumors that Robert is going from bloodsucker to alien!
Meanwhile, the British actor was the star of Twilight and is looking for another hit with New Moon. While Rob took a hit from some critics for the recently released "Little Ashes" with Kurt Loder of MTV lobbing, "As soon as Pattinson steps forth with Dali's famous up-twirled mustaches pasted to his face, the picture collapses," he didn't expect a trashy tale for a New Moon script. Now he has one.
According to a report from MTV, a script for not only New Moon but also Memoirs were discovered in a trash can. There are now reports that the entire script has been leaked online, according to the MTV report, but the woman that found the script says she has given it back to the studio.
That has landed her a trip to the premiere opening of both of those films, according to the MTV report.
Comments
comments