Robert Pattinson always gets his way.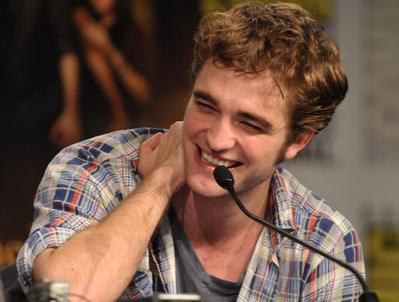 The hunky British actor — who successfully wooed his Twilight costar Kristen Stewart away from her longtime boyfriend Michael Angarano — is always focused, seems tireless, keeps his sense of humor and, most importantly — doesn't take himself that seriously.
"Rob has the balance of being the hottest dude in town without acting like it's a given right," a source close to the actor told an American tabloid. "But Rob always makes sure he gets his way."
Meanwhile, sources on the Vancouver, Canada, set of Eclipse — the third film in the smash hit Twilight movie franchise — say Stewart, 19, is much happier thanks to her romance with the hunky 23-year-old British actor.
"Everyone on the set approves of their pairing, because they really like both of them," a source recently told American's OK! magazine. "And they hope that love will blossom even more during the filming of Eclipse.
"Kristen is like a different girl on set these days. She is walking around with a smile on her face all the time and when Robert walks on set she smiles even more. This is truly a young woman in love."
"They are definitely a couple and they are very much in love. Neither of them is rushing into anything, they are just having a good time hanging out, but they plan to explore their relationship even more while they are filming," added another source.
"While they aren't going to be hiding their relationship any longer, don't look for them to be flaunting it either. They're still both pretty private people."