Robert Pattinson reportedly is seen canoodling with a Los Angeles' female resident named Erika Dutra, whom he meets through a mutual friend.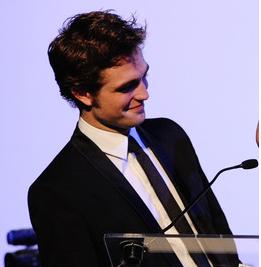 Turning down reports that he has romantic relationship with "Twilight" co-star Kristen Stewart, Robert Pattinson reportedly has flirted with a Los Angeles' female resident named Erika Dutra. Life and Style reports that the British heartthrob and Erika were spotted canoodling at the post-party for amfAR Cinema Against AIDS in Cannes.
The time and venue where Robert and Erika allegedly hook up remain unknown. Yet, an unnamed source has the details of the twosome's close bond. "Erika was introduced to Robert by a mutual friend at the beginning of the night and he was smitten with her from that point on," the source tells Life and Style. "He took pictures of her, sat with her all night, and the two of them were even seen kissing! There was serious chemistry between them, and they looked like they were having an amazing time."
Later on, Robert and Erika were seen leaving the party together, the source reveals further. No comment has been made just yet by Robert himself if the report is true or not.
Comments
comments