During the months Twilight: The New Moon Saga was filming in Vancouver, the franchise's fans eagerly trailed the film's star Robert Pattinson around town in hopes of a glimpse of him in the flesh.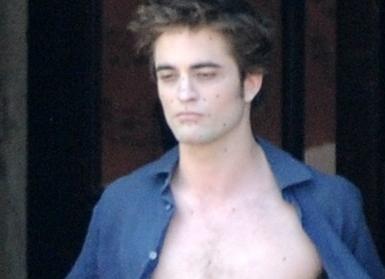 Though fans were scarcely rewarded due to the often closed set (as well as the cast's tendency to keep a low-profile in hopes of escaping fandemonium), photos of a shirtless Pattinson in Montepulciano, Italy that surfaced Wednesday proved the wait was well worth it.
The images, which depict scenes in New Moon when Edward Cullen has gone to Italy to visit the formidable Volturi vampires with a death wish, show off Pattinson's washboard abs. He is also wearing dots on his face and body, which are used to create the visual effect of his skin glittering in the sun when seen on film.
The film isn't due for release until November 2009. But fans can get a first glimpse of the movie on Sunday: A trailer will be shown during the MTV Movie Awards and posted at 10:45 p.m. ET on MySpace.
Meanwhile, it was reported that Robert Pattinson and Kristen Stewart were recently seen getting touchy-feely and kissing after filming scenes for Twilight sequel New Moon.
They were spotted getting intimate after leaving a Vancouver, Canada, bar at 2 a.m.
"I was on vacation in Vancouver when I saw Robert and Kristen holding hands as they left the bar Richard's about 2 a.m. on May 5," 18-year-old photography student Jessica Fettes of Sheldon, Iowa, told the National Enquirer magazine.
"They looked very happy together, and there was a lot of smiling. I saw them kissing after they got into a cab.
"From the length of time they kissed and the amount of touching they did, I am certain they are more than just friends."
Robert, 23, has apparently had a crush on Kristen — who is dating Michael Angarano — since they met on the set of the original Twilight movie in early 2008.
Comments
comments