It's vampire vs. werewolf! Their characters, Edward Cullen (Robert Pattinson) and Jacob Black (Taylor Lautner) battle over Bella Swan (Kristen Stewart) in The Twilight Saga: New Moon, but when asked about the supposed tension between the hunky stars of the film, Robert Pattinson laughs off rumors of a real-life rivalry with his costar Taylor.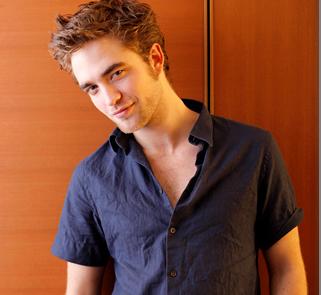 However, Robert admits there is a bit of an intimidation factor and reveals he is quite impressed by the 30 pounds of muscle Taylor put on for the sequel.
"I am a little threatened by him," Robert Pattinson revealed. "He shakes hands very, very hard, so it's intimidating."
More notes from the New Moon set, this time from a weekly Magazine and that celebrity weekly has grabbed a few quotes. "Vampires can be good-looking and dangerous," Pattinson tells Us, on the Vancouver set. "There are sexual connotations."
"The vampires are out, and we introduce the werewolves," Kristen notes of the plot for New Moon. How much Robert will fans see? Expect a lot of rob but fans will certainly get more of Jacob and in order to play Bella's dashing new love, Taylor Lautner worked out two hours a day. Next stop is europe as the cast will soon relocate to Montepulciano, Italy.