Ruben Studdard, who was a former "American Idol" champ, won the affection of millions of people.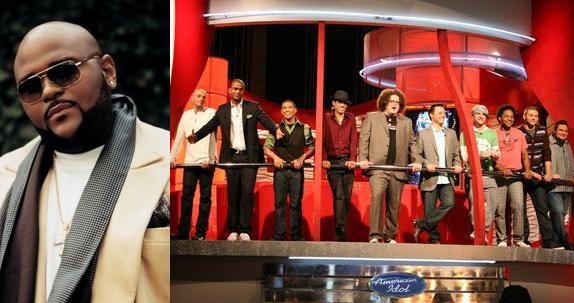 The representative for the former "American Idol" confirmed on Tuesday that Ruben Studdard, 29, plans a Saturday wedding. He and Surata Zuri McCants, 30, took out a marriage license on Monday, according to court records.
The Birmingham native, nicknamed the "Velvet Teddy Bear" on the show for his big frame and sonorous voice, has released three albums since his 2003 win, including the platinum CD "Soulful." He is working on a new album.
Meanwhile, David Cook, David Archuleta and the rest of the "American Idol" Top 10 are heading out on the 49-city "Pop-Tarts Presents American Idols Live! Tour 2008," this summer.
The "American Idol" Top 10 will be spending almost three months on a tour bus.
So what will they be bringing along with them to help them pass the time? Here are their answers:
David Cook: "My guitar. My Gibson Blues King acoustic. When I am not singing onstage, I will be writing, recording and playing music."

David Archuleta: "My phone. That is my only way of talking to my friends. I am addicted to texting I have to admit."

Chikezie: "I am going to be bringing a guitar with me, so I can get better. I am decent, but I want to get much, much better at that instrument."

Jason Castro: "I need my guitar. I go crazy without it. And probably some books. I like to read. And a computer. That is how I write my music. I don't do it the old-fashioned way."

Michael Johns: "Probably my tennis rackets. In case we get any free time, I want to stay somewhat fit and play some tennis. Other than that, about 90 pairs of underpants. I don't want to do laundry."

Brooke White: "I have to have music with me at all times, so I got some fancy headphones that are noise canceling that I can just plug into my iPod, so I can chill out on the bus and that will help inspire me to write when I am on the road."

Carly Smithson: "My computer, so I can Skype™ with my family, and my guitar, so I can play."

Kristy Lee: "I am bringing two photo albums and a stuffed bear. I like sleeping with the bear and that way I can have photos that remind me of my family and friends."

Ramiele Malubay: "During my time off, I was taking all these pictures of everybody, so those."

Syesha Mercado: "I have a teddy bear that is really dear to my heart. It was hand-stuffed by my fiancé. It is called Sinai. I am going to have that on the tour with me. Also, a really, good positive, uplifting book. I have a couple in mind. I am probably going to bring four books to keep my spirits high and have a good read. Of course, some comfortable clothes. You have to have some sweat pants and a nice, warm, cuddly sweater. And my iPod, my journal and laptop. I am getting a Mac."

The "Pop-Tarts Presents American Idols Live! Tour 2008" will start on July 1 in Glendale, AZ and wraps on September 13 in Tulsa, OK.
Comments
comments