It may have been well past the witching hour, but Rupert Grint appeared to be having a great time with a mystery young female friend last night.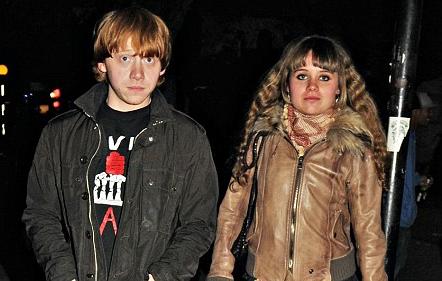 At 2am the pair were spotted as they walked to a mini cab office in Camden, where they jumped into a taxi.
Rupert plays the bumbling character of Ron in the blockbuster movies, the love-interest of Hermione Granger, played by Emma Watson.
But last night he was laughing and smiling with his friend who, like Hermione, had flowing curled hair.
The two wore scruffy casual clothes, with both wearing old pairs of Converse pumps and denim.
In February Grint revealed a more adult side when he appeared in the movie Cherrybomb, in which he stripped off for steamy scenes.
At the time he was rumored to be dating his co-star Kimberley Nixon, but played down the stories.
Rupert, who has made millions since winning the part of Ron Weasley when he was 11, is currently filming the adaptation of The Deathly Hallows.
JK Rowling's last book in her best-selling series has been split into two parts for the big-screen adaptation.
The cast and crew started filming the first part in February, and are currently on location in London.