The depicter of Ron Weasley spills the bean that he and co-star Emma Watson who plays Hermione needed five takes to get the kissing scene for 'Harry Potter and the Deathly Hallows' right.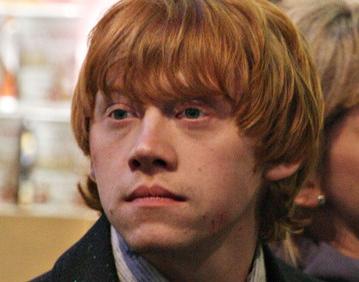 Ron Weasley and Hermione Granger will indeed swap spit in "Harry Potter and the Deathly Hallows" as Rupert Grint, the actor who portrays Ron in the "Harry Potter" series, stated the scene has been filmed. In an interview with the Daily Mail, the 20-year-old shared on how problematic it was to keep a straight face during the shooting.
"The hardest things for me are intimate scenes," Grint confessed before revealing that the kissing scene with co-star Emma Watson has been done. "Kissing her was always going to be strange. We've known each other for ten years so it was a bit like kissing my sister. We were both determined to get it right the first time, but our first try was a disaster because we both felt so self-conscious we couldn't stop laughing."
Though admitting that the scene was a hard one to be done, the actor who was dubbed Most Promising Newcomer by Young Artist Awards stated that they only needed five takes to get it right in the end. He noted that "Cherrybomb" played a big part for that to happen. "It would have been even more challenging if I hadn't had a bit of practice filming Cherrybomb. In that I have my first bedroom scene – it was very nerve-racking and not remotely sexy because the set-up is so mechanical."
As for how he landed the role of Harry's best friend in the first place, he recalled the time he auditioned for the part. "It was completely on a whim," he explained. "I'd sent in one application and had heard nothing back. So I figured there was nothing to lose by being a little inventive. My video was in three parts."
"There was a rap about myself; I dressed up as a woman and did a little sketch in the character of my drama teacher, then I read some Ron Weasley dialogue. I wasn't thinking, 'If I get this role, it will change my life.' Even after I'd got the part, it didn't feel life-changing."
"Harry Potter and the Deathly Hallows", the seventh and final book of "Harry Potter" series will be made into two movies, "Harry Potter and the Deathly Hallows: Part I" and "Harry Potter and the Deathly Hallows: Part II". "Part I" is due for November 19, 2010 release in both U.S. and U.K., whereas "Part II" has been set for July 15, 2011 release. The two movies will see the return of Daniel Radcliffe, Rupert Grint and Emma Watson.
Comments
comments