The mother of supermodel Ruslana Korshunova paid a heartbreaking visit Thursday to the downtown apartment where her daughter spent her last tormented moments.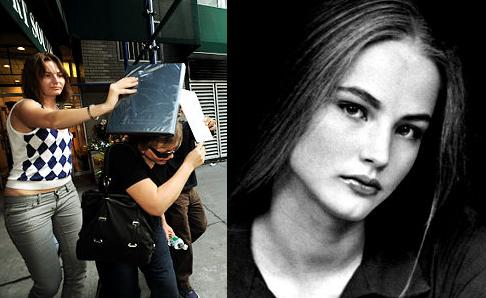 Valentina Kutenkova, who is the mother of Ruslana, walked to the middle of Water St. and looked up in a gut-wrenching scene.
Ruslana Korshunova's former boyfriend Artem Perchenok, who escorted her, and another friend pointed up to the ninth-floor balcony from where authorities say the Kazakh beauty threw herself.
Kutenkova, her eyes red from a day of tears, stared and said nothing. She looked back down and then headed into the building.
The 5 p.m. visit capped a long, sad day for the model's mom, who also went shopping for the kind of outfit no mother wants to see a daughter wear – a burial dress.
Nina, who is the mother of Perchenok, said, "They're picking up a dress for her."
Kutenkova also spent part of the day completing the paperwork to retrieve her 20-year-old daughter's body from the city morgue and fly her home to Kazakhstan for burial.
Raushan Yesbulatova, who is the Kazakh consul in New York, revealed, "We're still waiting for the certificate of death. Then all the documents have to be translated into Russian."
Korshunova stunned her family and the fashion world with the nine-story fall from her luxurious pad Saturday. Despite the lack of a farewell note, the medical examiner ruled Korshunova's death a suicide.
Her family and friends still believe she fell accidentally.
Perchenok insisted, "They're not excluding a slip."
Back home in Almaty, Korshunova's childhood pal Aygerim Baten said the model "looked down on suicide."
A year or so ago she met Korshunova in Japan, where the big story was about a sudden rise in suicides. "We talked about it and I clearly knew where she stood on this issue, about the silliness of this act," Baten told the Daily News.
A former classmate said Korshunova would never kill herself "because it would hurt her mother."
Svetlana Amerdinova told the Moscow-based Komsomolskaya Pravda newspaper, "They were very close."
Discovered at age 15, the green-eyed beauty with long chestnut hair went on to grace the covers of top fashion magazines and strutted down catwalks around the world.
Korshunova, whom everybody called Lena, was just one of the girls at school – and a straight-A student, Amerdinova told Russia's top-selling newspaper.
Amerdinova said, "She took her studies very seriously. She didn't stand out among other girls, except for maybe with her luxurious hair. Some girls in the class wanted to copy her and began to grow theirs out."
Amerdinova said she saw Korshunova when the model visited in April and she didn't seem troubled.
And if she still carried the torch for Perchenok, 24 – or was having trouble with new boyfriend Mark Kaminsky, 32 – she didn't let on.
She added, "I don't think she had a serious relationship with that guy in America. She would have told me about it."
Comments
comments