With their numbers narrowed down to the Top 36, "American Idol" is going live for the first time in Season 8 starting tonight, and according to host Ryan Seacrest, producers may want to keep their hand on the censor key.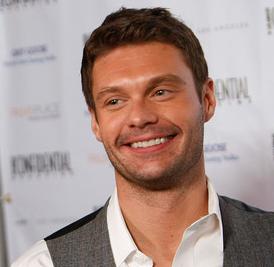 Ryan revealed of the frank batch of contenders: "What's great about these contestants, and you will start seeing it Tuesday and Wednesday night, these contestants will tell you how they feel. I have a feeling we may need the bleep button. The bleep button may need to be activated this year. Some of these contestants are pretty candid, which is great. They show heart and passion and we need them."
And among the 36 hopefuls, a handful are already standing out, even before tonight's live round begins.
Season 7 finalist Carly Smithson said of her pick for the Season 8 finals: "Anoop [Desai]. I love him. He's so cool. I like Anoop."
Justin Guarini, from "Idol's" first season, was also a fan of the hopeful, saying: "My picks for this round coming up, someone I feel strongly for and I think he's got a fantastic voice? Anoop Desai — he's my man."
But Mandisa, from "American Idol" Season 5, said she doesn't just have a favorite, she knows who is going to win.
"The winner of 'American Idol' Season 8? Danny Gokey," she said. "He not only has a great story, but he's an amazing singer. When he opened his mouth he won me over, but then when I heard his story, I was definitely sold."
In related news, fans of the show can purchase the music performances from the semifinal round for 99 cents per song, beginning Wednesday.
Comments
comments