On his KIIS-FM radio show Monday, Ryan Seacrest spoke out about Angelina Jolie dissing him on the red carpet at Sunday's Golden Globe Awards.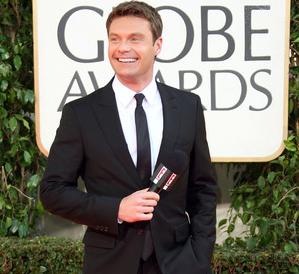 Ryan Seacrest had gotten up next to the actress and beau Brad Pitt, hoping to score an interview on E!'s pre-show. "Hi, guys. Brad? Angelina?" he said, but they ignored his advance and brushed by him.
How did he take on the incident? He revealed on his show Monday: "I don't think Angelina thinks I'm that important. I don't think I'm top of mind for Brad and Angelina. I honestly don't believe they'd know who I was if I walked over there."
When guest Perez Hilton told Seacrest that that's impossible, as he hosts the No. 1 show American Idol, the TV personality shot back: "Yeah…but they live in France!"
Brangelina did stop for NBC's Billy Bush, but Seacrest said: "there's an NBC deal there. NBC hosted the Globes, and they have a deal to talk to the people who come to the Globes."
He went on: "Here's what I realized when I went down there. I realized quickly that it's against the rules to walk down onto the carpet from the platform.
He added: "Then we went back down there and caught up with Tom Cruise, who I think is a terrific guy. I think he's really cool. By the way, have you seen his skin tone up close lately? You should!"
Ryan Seacrest clashed with Jolie before: At the 2006 Golden Globes, he asked her what she fed her children that day and she icily replied: " Cereal — we made cereal."
He later called her "cold" for being so unresponsive.
Turns out, Jolie's mother, Marcheline Bertrand, was on her death bed at the time.
Comments
comments