Salma Hayek, who is a glamorous actress mum, was spotted having a girls' day out in Malibu with her baby daughter Valentina.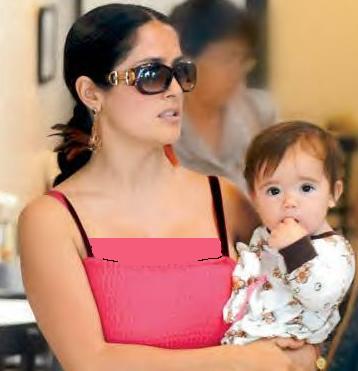 The "Ugly Betty" producer perches her ten-month-old daughter Valentina expertly on her hip during a shopping trip in Malibu.
Her daughter Valentina Paloma Pinault will no doubt grow up having an edge in the sartorial stakes. The ten-month-old baby was getting an early introduction to fashion, over the weekend when she accompanied her mum on a shopping trip in Malibu.
The glamorous actress, who has kept a low profile so far this year, has recently been spotted out in LA with her little girl. They got the striking resemblance of raven hair and dark brown eyes. They followed up their trip to the shops with a lunch date with Valentina's daddy, Salma's billionaire fiancé Francois-Henri Pinault.
As she adjusts to life as a mother, Salma is also getting back into the swing of work. The actress also added that she has six or seven new projects in the pipeline with her production company and is about to begin work on two new silver screen projects – Spanish-language comedy "La Banda" and US drama "Keep Coming Back". Both of which are scheduled for release next year.
Comments
comments