Salma Hayek, her mother Diana and daughter Valentina attended an afternoon Vanity Fair party in Seville, Spain.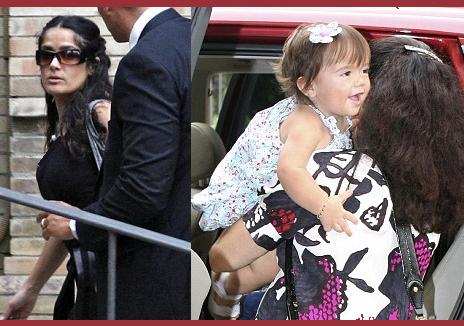 Diana looked a proud grandmother as she carried the adorable toddler Valentina, who turns one on Monday, from the car as the pair headed past photographers into the event.
Salma Hayek, who was dressed formally in a black dress and black sunglasses, followed her mother and daughter inside.
The "Frida" actress was recently reunited with her former fiancée Francois-Henri Pinault at a party for Stevie Wonder's son Kailand Morris.
A party guest revealed: "She stayed by his side almost the whole time. It was so cute – Francois-Henri was carrying the baby, smiling, and playing with her. He obviously adores Valentina."
The actress and billionaire Frenchman François-Henri Pinault, 45, announced they had called off their engagement in July – because of the 5,700 mile gulf between them.
While Salma Hayek's lives in Los Angeles with their daughter her partner was living in Paris. They issued a joint statement saying this had made their relationship unworkable.
Comments
comments