Salma Hayek spilled them out despite a relatively high neckline dress at Vicky Cristina Barcelona LA premiere at Mann Village Theater in Westwood, CA on August 4.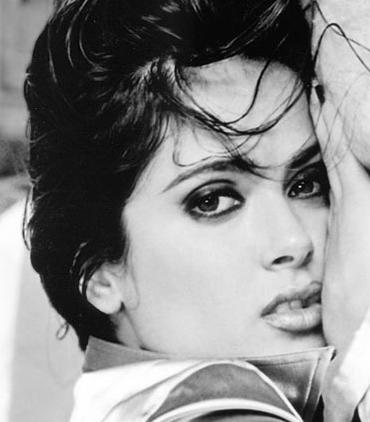 The new mommy, of an understandably well fed and healthy 11-month-old baby girl, Valentina, showed off her impressive post baby figure in a belted ice blue Balenciaga sleeveless dress with a ribbon detail on the neck and ruffled hem.
She accessorized with black strappy heels, a pearl necklace and a multi row pearl bracelet on her right arm. Her long dark hair, set in a tangled look, framed her face making it look long and narrow.
The newly single mom looked a lot less cheerful than buxom and wore very little makeup.
The "Frida" actress called off her engagement to French billionaire Francois-Henri Pinault, the father of baby Valentina, on July 18.
She met Pinault, 45, in Venice in May 2006 but kept their relationship low key. The two announced their engagement and Salma Hayek's pregnancy in March 2007.
Valentina is the first child for Salma Hayek and Francois-Henri Pinault has two children from a previous marriage.
"Vicky Cristina Barcelona", starring Scarlett Johansson, Penelope Cruz, Rebecca Hall and Javier Bardem, is director Woody Allen's first to be shot in Spain, and his fourth consecutive film shot outside the US. It was shot in Avilés, Barcelona and Oviedo.
The plot centers on two American women, Vicky (Rebecca Hall) and Cristina (Scarlett Johansson), who are vacationing in Barcelona. Once there, the two women meet an artist, and the three quickly develop a relationship. The artist, however, is still enamored of his mentally unstable ex-girlfriend.
This film, which premiered at the 2008 Cannes Film Festival in May 2008, reportedly features a lip lock between Penelope Cruz and Scarlett Johansson and a threesome between Cruz, Johansson, and Javier Bardem, who plays Cruz's husband in the film.
Comments
comments